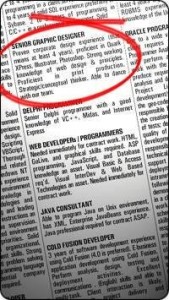 Want to get the same-sex marriage issue back in the media in a positive way?
Want to make a memorable statement in a way that's never been done before?
Join us in taking over statewide newspapers on Sunday, May 3rd!
Imagine the look on people's faces when they open the newspaper and turn to the classifieds section but only see ads like this:
LOST AND FOUND
Lost – my right to marry the person I love. Last seen on November 4th, 2008. If seen, please return to law abiding, taxpaying citizen. It is dearly missed.
LOST AND FOUND
On Nov 4th, 2008 over half the state of California lost their minds! Please return ASAP so that we can start focusing on issues such as the state deficit, ending the war, homelessness, hunger, etc.
WANTED
The right to marry the person I love. If anyone has a right to marry that they are not using, please let me know. This right must be non-revocable and available to all people regardless of their sexual orientation. Please call ASAP if you can help me secure equality for all.
This is a unique and creative way to bring the discussion of marriage equality into people's homes. Please take part in this historic movement by submitting your own ad to your local newspaper in time for the May, 3rd publishing (most papers have a deadline of SUNDAY 4/30/09 to get your ad in the May 3rd printing). You can create your own unique ad, or use one of the ads found at http://site.equalitywanted.com/Sample_Ads.html.
This idea is the brainchild of some folks in California but it's already being adapted by people in other states like Illinois, New York, etc. You can bring humor into your state too!
For more information about this great event, visit http://www.EqualityWanted.com.